999 Magazine, the official monthly publication of the UAE Ministry of Interior (MoI), has launched the book titled "Zayed In Their Hearts and Minds", that pays tribute to the UAE founding father, the late Sheikh Zayed bin Sultan Al Nahyan.
Held at the Emirates Palace in Abu Dhabi on Monday, November 5, the book release became even more timely as this year celebrates the 'Year of the Zayed' as well as the death anniversary of the founding father this month.
The first edition of the book was presented to His Highness Sheikh Saif bin Zayed Al Nahyan, Deputy Prime Minister and Minister of Interior of the UAE, and was received on his behalf by Major General Dr Ahmed Nasser Al Raisi, Inspector General, Ministry of Interior.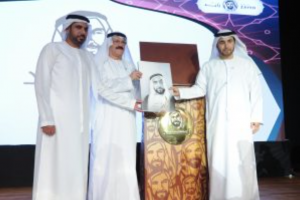 Major General Dr Al Raisi stressed that the event calls for a celebration to remember the ideals and principles of the founding father. He also praised President His Highness Sheikh Khalifa bin Zayed, His Highness Sheikh Mohammed bin Rashid Al Maktoum, Vice President and Prime Minister of the UAE and Ruler of Dubai, His Highness Sheikh Mohamed bin Zayed Al Nahyan, Crown Prince of Abu Dhabi and Deputy Supreme Commander of the UAE Armed Forces, for following in the footsteps of the founding father.
In his speech, His Excellency Khalil Dawoud Badran, Chairman of the 999 Magazine Development Committee, also echoed the exemplary leadership of Sheikh Zayed who laid the foundations for the thriving modern UAE. He emphasized that the book aims to strengthen message of loyalty to the nation and its leaders.
Colonel Awadh Saleh Saeed, Editor in Chief, 999 Magazine, meanwhile, lauded the staff of 999 Magazine for the successful book release. He said, "This marks a new realization of the vision and logo of the magazine, which brings about a new concept of the police relationship with the community."
The book reviews the history of Sheikh Zayed through the testimonies and accounts of several UAE residents and expatriates. It underscores the compassion of Sheikh Zayed towards his people and in understanding the needs of his nation.