By Roopa Raveendran Menon
People often keep their eyes peeled for new professional opportunities, especially if they feel there's much more they can get out of their profession, or that they have much more to offer.
The good news is that there are solutions to be found, preparations to be made, and strategies to be revised. So, get busy.
Applying for a job is an art by itself. A major reason why many job-seekers fail to get that coveted offer is that they're unable to successfully navigate the application process. While there's no fool-proof formula, you can give yourself the best chance by doing adequate research, fine-tuning your resume, and preparing for the interview. After all, as the adage goes, success is when opportunity meets preparedness.
Top recent HR statistics have noted some interesting trends. A survey conducted by CareerBuilder, an online employment website founded since 1995, revealed that around 60 per cent of job applicants quit in the middle of filling out an online job application because they find the length and complexity of the form highly daunting. Another survey conducted by Career Arc, HR technology company helping businesses recruit employees, showed that a typical job applicant spends around 3-4 hours preparing and submitting one job application, while around 72 per cent of the employers spend less than 15 minutes in reviewing one application.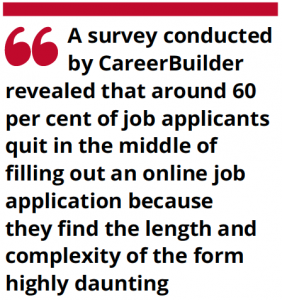 Meanwhile, HR professionals in the region have also revealed some of the factors that can hamper the applicant's chances.
Rose Alapatt, Head of Talent Management at a UAE-based company, reveals to 999, "Resumes that are poorly proof-read and have spelling errors, especially in the company's name, can be a put-off. It shows that the candidate is sloppy and not serious about their application."
Even a bad resume design can hinder your career. Dubai-based Judy Santos was working as an administration assistant in her home country. She got married last year and moved to the UAE. Soon afterwards, she started looking for a job, but despite applying to a number of companies, she never got any interview calls for three months. "I had the experience and qualification, but I didn't know what I was doing wrong," she recalls. As a last resort, Santos sought the help of an HR consultant friend. "He evaluated my resume and pointed out that it had some classic resume mistakes such as poor design and choice of fonts, use of repetitive words and phrases, dense blocks of text etc," she adds. As soon as she started sending out her new and improved resume, the interview calls followed. "Now I'm completing one month in my new job. I'm so glad I took proactive steps to amend my situation," says a happy Santos.
The length and clarity of the resume matter as well. Prashanth Edasseri, Chief People Consultant and CEO, Gravity-The Holding Force, advises job applicants to keep their resumes brief and to the point. He tells 999, "Candidates must refrain from submitting long, tedious resumes filled with irrelevant information."
The competition out there is brutal and every misstep along the way can cost you a good offer. So, let 999 steer you through this process.
MAKE YOURSELF VISIBLE
It's common knowledge that a job-hunt can look like a very complex process. Nonetheless, a well-prepared candidate can get through this maze if they understand the factors that come into play.
Edasseri highlights some key points that must be kept in mind for jobs at all levels: entry level, mid-level, or senior level. The first point is networking, making yourself visible. Even for those at the senior level, this factor is vital. He asserts, "Most people underestimate the power of networking. Today, more and more positions are getting filled without being advertised or posted on well-known job sites. Especially, at the middle or senior level, a referral is more likely to get you the position than conventionally applying to a job site or portal."
With referral-based hiring happening on such a large scale, Edasseri advises all job applicants to step outside their homes and offices, visit exhibitions, forums, and other industry events, and interact and mingle with people from their profession. He says, "Quit focusing on old ways of securing a job; go out and meet people and look at every interaction as a possible opportunity."
BUILD YOUR OWN BRAND
Finding and building a personal brand is not for celebrities alone. It is, in fact, the secret ingredient that can make you stand out while scouting for a job. Edasseri tells 999, "Developing your personal brand is a great way to manage your career progression and how you're recognised in the marketplace. A strong personal brand can successfully impact your ability to get the right jobs and promotions." He recommends that job applicants should identify their strengths, unique traits, and the areas where they excel. "Once their uniqueness and strengths are identified, then they can hone them and take ownership of them," he says. Also, Edasseri adds, "A big part of building your brand involves continuous learning."
BE ACTIVE ON SOCIAL MEDIA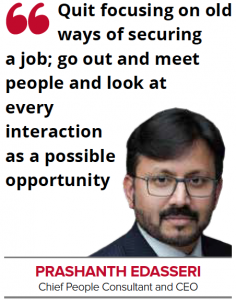 Social media platforms, if used effectively, can significantly help with building your personal brand. Additionally, they can play a crucial role in getting you closer to that dream job. Based on the 2018 CareerBuilder survey, around 70 per cent of employers utilise social media to monitor candidates during the hiring process.
Edasseri says, "Usually, job-seekers that are from the old school of thought often avoid or dismiss social media. However, they must be on social media and use it as a platform to share their intelligent and thought-provoking ideas, as those might catch the interest of a potential employer.
"As for millennials, who are reportedly more active on social media, they must maintain proper social media decorum and etiquette, as a negative social media image can often be a red flag for prospective employers."
RESEARCH THE COMPANY
So, now that you have a job interview on your schedule, congratulate yourself for crossing the first hurdle in the job-hunting race. The interview preparation phase is a crucial one. A survey of Classes and Careers, found that 33% of bosses say they know within 90 seconds whether they will hire someone or not. In another survey by the global staffing agency Accountemps, 90 per cent of HR managers usually make up their mind in the first 20 minutes, so use your time wisely to impress them.
Meanwhile, Alapatt puts forth some interviews tips and recommendations that will help job-seekers ace their interview. "Doing your homework is a crucial part of the interview preparation," she tells 999. "Every job applicant must visit the website of the prospective employer and scan it thoroughly, as this will give them an idea of their mission, values, and vision." She also points out, "While exploring the website, a job applicant should look for reasons to work for this employer, since he/she can impress them by stating simple but convincing reasons to work for the company. Doing enough groundwork and research will help one frame thought-provoking questions that a job applicant can later ask the interviewer."
DRESS PROPERLY AND WORK ON YOUR CONFIDENCE
Emphasising on the importance of being professionally dressed, Alapatt explains, "One thing that many job applicants underestimate is their attire and appearance. A job applicant must be dressed in a manner that is appropriate to the position for which he/she is applying." She also recommends avoiding loud or gaudy colours and keeping their accessories and jewellery to the minimum. "Ensure that your hair is neatly styled," she adds.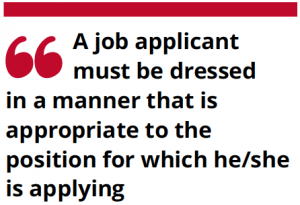 Your appearance matters as you walk into the interview room. And then your personality has to take over. You have to give confident answers to interviewers' questions. And this is where candidates sometimes falter. Abu Dhabi-based Arun Shah, an information technology professional, looked for better prospects for a long while. Being well-qualified and experienced, he'd often get interview calls; it was at the interview that he'd stumble. Shah says, "There was no dearth of interview calls, but I'd get so nervous at the interview that I'd either go blank or mumble some answer. I was never able to properly explain what I do and this cost me several job opportunities."
Finally, after doing some mock interview sessions with his friends who have been working in the UAE for quite some time now, his composure improved. "Little by little, I was able to gain confidence and present my answers in an articulate manner. Now, I'm able to face a panel with ease," says Shah, who recently got a job offer from a major IT firm.
This strategy is also recommended by Alapatt. She says, "One way to alleviate your nervousness is by doing mock interviews. Seek professional help or ask one of your friends to do a mock interview session with you." However, she also cautions job applicants against memorising or rote learning their lines as this could stress them out if they can't recall what they have to say.
AND MAKE IT ON TIME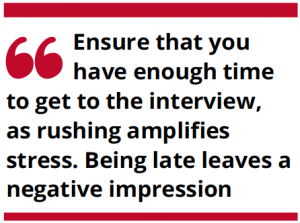 Punctuality is non-negotiable, says Alapatt. "Ensure that you have enough time to get to the interview, as rushing amplifies stress. Being late leaves a negative impression." She advises candidates to smile politely and make eye contact, as this gives the prospective employer the impression that you're open-minded and articulate. Finally, she counsels job applicants to be themselves. "One can't emphasise enough about the importance of this," she says. "Pretending to be someone you are not or suppressing your personality will not help you as most of the interviewers will be able to see through your artifice."
Things to avoid during the interview
For a job applicant, knowing what not to do in an interview is as important as having a perfectly crafted resume. While job interviews can be subjective, HR expert Rose Alapatt has identified some common interview mistakes that candidates must avoid.
– Avoid arriving late.
– Avoid being inappropriately dressed.
– Avoid talking too much. Be brief in your responses.
– Avoid giving monosyllabic answers, as that can put off interviewers.
– Avoid taking any calls or answering any messages during the interview.
Write a winning CV
For a job applicant, one of the tensest tasks is putting together a perfectly crafted resume aka CV or polishing the current one. However, even the most experienced of job applicants can make faux pas in their CVs, thus thwarting their chances.
Prashanth Edasseri, Chief People Consultant and CEO, Gravity-The Holding Force, shares some tips to craft a winning resume:
– Most recruiters and employers have only a short time to scan your resume, so it should be well-designed and professional fonts must be used to make it a clear and easy read.
– Use a one-inch margin size on all sides of your resume, and maintain a single space between the lines. To avoid too much white space, consider spacing lines by 1.15 or 1.5 or you can also spread your margins if it's difficult to add more information to your resume, but the margins should remain below two inches.
– Try to use effective words such as "accomplished", "earned", "completed." The content must be simple and easy to read.
– Even though you might have comprehensive work or educational experience, it's important to keep your resume short and straight to the point. Your resume must not be longer than two pages.
– Ensure that the resume includes a professionally shot photograph of the job-seeker. Avoid using photographs from your holidays or social gatherings.
– To avoid glaring typos or grammatical errors, always ensure that your resume is thoroughly proof-read.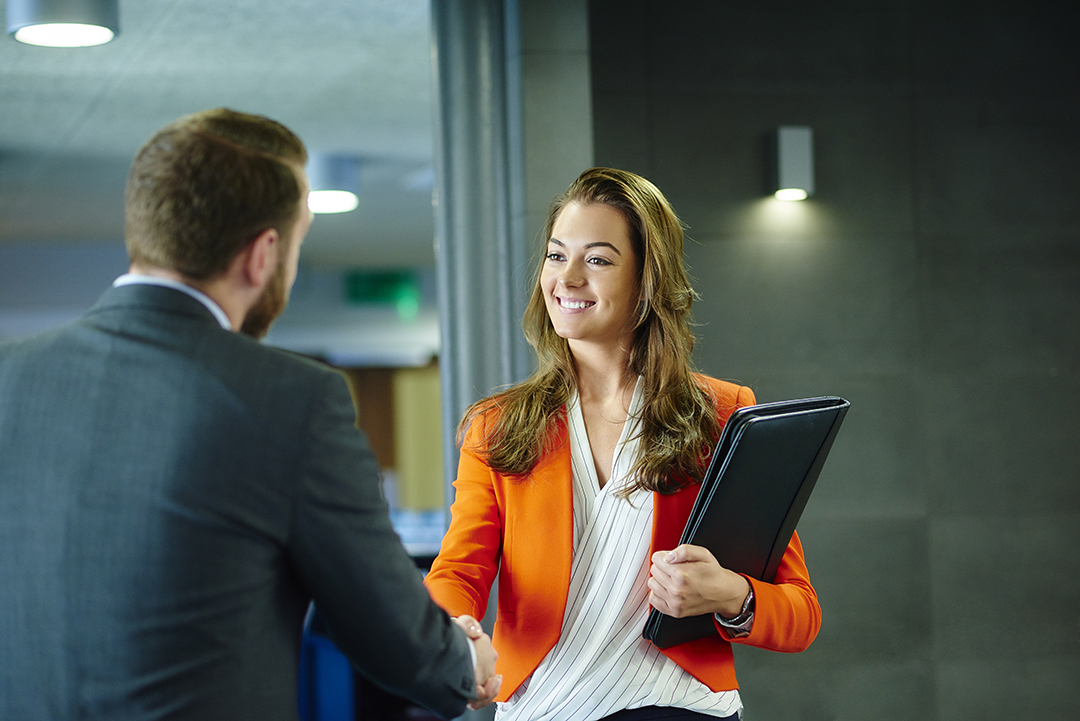 Tips to master before your job interview
Here are the takeaways that can help you prepare for your future job interview:
9 out of 10
HR managers who usually make up their mind in the first 20 minutes. As a piece of advice, impress them as soon as your interview begins
7 out of 10
Employers who have a negative perception on applicants who 'dress to kill'
7 out of 10
Job applicants who quit in the middle of filling out an online job application because they find the length and complexity of the form highly daunting
15 minutes
More than 7 out of 10 employers who spend less than 15 minutes in reviewing one application
7 out of 10
Employers who say that personal deal-breakers, such as including irrelevant information or unprofessional e-mail address, are enough to reject a candidate
7 out of 10
Employers who utilise social media to monitor candidates during the hiring process
3-4 hours
A typical job applicant spends in preparing and submitting one job application
90 seconds
Amount of time employers spend to determine whether they will hire someone or not
Are you one of these seven types of jobseekers?
Based on 999's conversations with various HR professionals in the UAE, if you're still unable to secure the position you want, then perhaps it's time to take a good hard look at yourself and see if you fall in any of the seven categories.
1. The Invisible
This applicant loves to apply for jobs. He will spend hours in a day applying for a vast selection of jobs. However, the moment you call and inform him that he has been selected for an interview, all his enthusiasm evaporates. He commits to come for an interview but is often a no-show. DrJohnSullivan.com, a talent management thought leadership, has cited the reason behind the growing number of no-shows at interviews, by interestingly comparing going for an interview to "going to the dentist".
2. The Competitive
This job applicant takes himself and his accomplishments way too seriously. He is fiercely competitive and loves to list out all his accomplishments, including those from his school days and maybe even kindergarten. Don't be surprised if you find the line 'Secured first place in fancy dress competition, KG 2,' in this job applicant's resume. According to a 2018 survey conducted by TopResume, at least 70 per cent of employers reported that personal deal-breakers, such as including irrelevant information or unprofessional e-mail address, are enough to reject a candidate before they even finished reading the resume.
3. The Die-hard Optimist
Now, amongst job applicants, there are optimists and then there are die-hard optimists. The die-hard optimists are those that send their CVs to the same job portals every day, irrespective of job postings or openings. Possibly, this job applicant is a great believer in the law of probability or trusts that applying for a job is akin to winning a lottery: if you don't succeed at first, try, try, try, till you succeed, or perhaps till the recruiter blocks your e-mail. According to an article by efinancialcareers, one of the 11 ways to ruin your chances with recruiters is pestering or stalking employers.
4. The Commitment-Phobic
This is an interesting kind of job applicant. They do everything by the book, right from applying for the appropriate position to acing several rounds of interviews. Finally, when it comes down to accepting the offer, they often get cold feet and remain non-committal. According to an article of the Business Insider, millennials tend to be commitment-phobic and they have a tendency to move from one job opportunity to another.
5. The Mobile Addict
This job applicant will never turn their mobiles off during the interview. You know you're in the presence of The Mobile Addict when, right before the interview begins, they fish out their mobile from their bag and place it on the table. And throughout the interview, they will sneak a peek at the mobile. Some of these job applicants take it as far as even taking a call during the interview. According to a senior official from ManPower Group, since millennials have been technology-enabled, they have a different way of connecting, which makes them struggle with traditional interviews where it's all about personal interaction.
6. The Blabbermouth
This job applicant can talk endlessly during an interview. They end up talking about anything and everything, sometimes even leaving the interviewer confused and in a tizzy. Brevity as a concept is lost on them. A small word of advice for them is to take a pause and a deep breath after every two sentences. Also, if you think that talking a lot means a better chance of getting the job, then you couldn't be more wrong. Based on a survey of around 2,000 bosses, trying to be all things to all people and over-explaining are amongst the top ten mistakes job applicants make during interviews.
7. The Image-Conscious
This job applicant is never available for an immediate or on-the-spot interview opportunity. They pride themselves on dazzling their interviewer by over-dressing to impress. Often, they'll ask for a week or two to prep for the interview, where a grooming session in the salon is given more importance than diving into the company's literature. But does this work? According to the survey of around 2,000 bosses, at least 70 per cent of the employers claimed that they didn't want applicants who 'dress to kill'.